Select a quantity of 5 packs of 100 bills. You'll pay for only 5 packs, but you will receive 10 packs for a total of 1,000 million dollar bills. You'll be a Billionaire!
3 Easy Ways to Order
1. Order online:
To get your pack of 100 Million Dollar Bills (complete with a band just like the bank uses) on their way to you today. That's 100 million dollars for just $18.95!
---
Or order five packs and get 500 FREE million dollar bills . . . That's 10 packs (One Billion Dollars!) for just $94.75.
---
2. Order by Phone: Call 1-928-927-8888
or call toll-free at 800-353-8067
3. Order by Mail: Send your order to:
Million Dollar Bills
P.O. Box 422
Quartzsite, AZ 85346

100% Money-Back Guarantee:

If you're not completely satisfied, just return your bills for a full 100% refund. No one ever has (and I'm betting that you won't either) -- but it's your decision.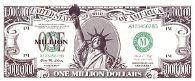 Here's how other million dollar bill owners have increased profits and had fun with these bills:
"I use the million dollar bills at trade shows and art fairs. I easily make a few extra thousand a year as a result of using these in my sales and marketing."
"I can remember one time where I made a $1,000.00 sale on the spot as a result of handing a complete stranger a Million Dollar Bill with my marketing message printed on a label and stuck to the back of the bill. You have a good product."
Tom B.
Truth or Consequences,
New Mexico

---
"As a waitress I can say that your million dollar bills are worth their weight in gold when I leave one with each customer's check."
Ann Shaw
waitress
Philadelphia, Pennsylvania
---
"My daughter bought some Million Dollars from you and put my company name and phone number on the back of the bill and I sold one Indian Tipi for $1,500.00 the very first day she handed them out. I'd say they paid for themselves real quick."
"I like them so much I want 10,000 more!"
Don Strinz
Milford, Nebraska
Strinztipi.com
---
"I've found that with a briefcase full of these million dollar bills I can quickly get past any gatekeeper and get in to see the decision maker."
Ron S.
Atlanta, Georgia